Blooms in Bloom
can offer anything from a small bouquet to large events and weddings. Our designers specialize in capturing the individuality of our clients within their budget. We feature high quality and unique floral design work, using only the freshest of flowers available.
The Wedding Collection
Flowers have been a part of weddings for centuries. As a floral boutique, Blooms in Bloom takes great pride in carrying on that tradition. We love helping couples bring their dream wedding to life by providing the perfect floral accents for their big day. It is one of our favorite and most rewarding things to do!
Our team at Blooms in Bloom are expert floral designers with over 25 years of experience. We've worked with hundreds of couples who have been put at ease by our attention to detail and expertise. We pride ourselves on capturing the individual style of each couple. We get excited about each wedding and love creating your beautiful floral designs with fresh, stunning, locally grown flowers. And we promise to be on site the day of your wedding to deliver, set up, and make sure every flower is primed, pinned and perfectly placed.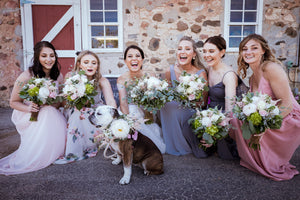 💐Flowery Feedback
We appreciate the kind words from all of our wonderful customers throughout the years!